Closet Organizer Buying Guide
There are three main ways to approach buying closet organizer inserts.
Hire an expert. There are companies whose only goal is to make your closet look and function as you wish. Incorporating your design (on-line companies will invite you to fax in your design or use an on-line design tool), or using one of their own, in consultation with you they will help you create a workable pantry, laundry room, garage, or clothes closet. With most, the pieces will arrive preassembled, and installation will be minimal. This is likely to be the most expensive choice for a closet organizer, with costs totalling over 1000 US Dollars (USD).
Buy materials and build the storage unit yourself. This approach gives you the most control over your closet organizer and allows you to adapt to special circumstances (such as unusual dimensions or the particular way you like to store items), while allowing for a wide range of materials choices. Building it yourself typically costs less than professional design and installation. You may wish to make your own design (and home stores like Lowe's has an on-line tools to do this), or pattern your work after a picture you've seen or plans in a home improvement publication. This is likely to be the cheapest approach.

A really quick solution to shelving, for example, can be built with milk crates or concrete blocks and board lengths with their edges sanded. For something more elaborate, you may find that this choice requires the investment of a good amount of time for designing, building, and installation.
Purchase pre-made inserts and arrange them/install them to suit your needs. If building from scratch is not an option, putting together individual inserts to suit your needs may work well. If your closet is a standard size, all-in-one inserts – made to arrange the entire closet with one (large) closet organizer- may suit your needs. If those don't work—for example, if your closet is an unusual size—and if you are willing to work with just one brand, you can find on-line design guides (for example, at Home Depot's website).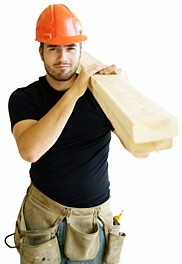 But if you want or need a more eclectic approach, here are some of the options that you can put together to form your own closet organizer system. Entire pre-made closet systems often cost hundreds of dollars; individual pieces that you put together yourself will vary widely by the type of products you combine.
Rods and Hanging Helpers
Rods can be purchased in various diameters and installed using brackets. Many storage items are created to hang from rods including the following:
Hangers, including shirt hangers, suit hangers, clamp hangers, clipped skirt hangers, and padded hangers. Slack racks and skirt racks are an extended form of hanger that holds multiple items. Tie racks are also available with a hanger top.
Hanging Storage, including sweater bags, dress bags (some with cedar built-in), daily organizers, and shoe shelves.
Wall-Mounted Shelves and Shelving Helpers
Shelves can be created from boards or wire shelving may be installed. Shelving accoutrements include:
Shelf dividers to help keep items in neat stacks

Shelf liners, which rest on wire shelves and create a flat surface (so the wire marks don't get into clothing)

Expanding shelf stacker, which creates vertical tiers of organization for one section of the shelf

Undershelf baskets, which attach below the shelf and provide additional storage
Over-the-Door Organizers
Shoe bags may be used for shoes or for other small items, including tools, art supplies, cookie cutters, and other items that require good organization

Towel racks can hold towels or other fabric or organize large sheets of paper without folding

Peg racks can hold bathrobes and pajamas, garden tools, or aprons and oven mitts, depending on the room.
Floor Storage
Specialized bags, boxes, totes, and baskets can be used to organize a wide variety of objects.
Specialized Storage
Wine racks, lazy susans, hat boxes, and other specialty storage can be used for its intended purpose or adapted to any use that works well for you.
Written by Mary Elizabeth
Related Home Institute Articles