Introduction to Bakeware
There are many different types of bakeware, each with its own set of advantages and disadvantages. Bakeware can be made of a variety of materials, including various metals, glass, and stone. Bakeware also comes in virtually every size and shape imaginable: square pans, round pans, loaf pans, springform pans, cookie sheet, muffin tins, casserole dishes, and many many more. When choosing bakeware, it is best to determine what you will be using it for, then determine which shape and material is best for your purposes.
Bakeware Materials
One very popular material for many kinds of bakeware is aluminum. Aluminum will not rust, is very durable, and conducts heat well, resulting in even baking. Heavier aluminum will last longer than thin aluminum pans, which can warp easily. Aluminum bakeware should not be used with acidic food, and the shiny surface may not allow food to brown properly.
Other types of aluminum bakeware are made of aluminum foil and anodized aluminum. Silver anodized aluminum is non-stick and will not rust. It is scratch resistant, very durable, and cooks evenly. Hard anodized aluminum is processed longer than silver anodized aluminum. This gives the bakeware a very hard surface which is dark and can stand up to metal utensils. Bakeware made of aluminum foil is usually thought to be disposable, but can be reused if it is not punctured, and is washed carefully. They are very inexpensive, making them a good form of bakeware to use when giving away baked goods.
Glass bakeware is very popular, being easy to clean and non-staining. Pans are usually made of tempered glass. Glass pans heat more quickly and hold heat longer than metal pans, so baking time may need to be adjusted. Acidic foods may be baked in glass pans, and foods tend to brown nicely in glass pans.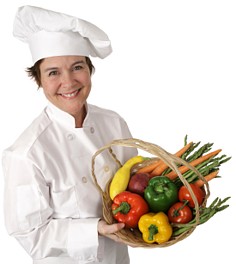 A fairly new form of bakeware is made of silicone. Silicone bakeware is safe and extremely flexible. Silicone does not retain heat like metal, so the cooking process stops as soon as the food is taken out of the oven. Silicone bakeware is gaining in popularity very quickly, as it is dishwasher safe, can be folded for storage, and is refrigerator safe.
There are many other materials for manufacturing bakeware. Insulated bakeware is composed of two sheets of metal with a layer of air in between. Stainless steel bakeware distributes heat unevenly and is not highly recommended. Stone bakeware absorbs and retains heat very well. Tinned steel bakeware heats evenly, but may rust. Non-stick bakeware is made of steel or aluminum with a non-stick coating on top.
Types of Bakeware
There are as many types of bakeware as there are kinds of baked goods. Baking dishes are commonly used for cakes, casseroles, cobblers, and meat dishes. Baking dishes have a flat bottom and sides that are 0.75 inches (1.9 cm) or taller. They are square or rectangular, and sometimes have a lid, as with casserole baking dishes.
A common type of baking pan is a cake pan. Cake pans are found in many shapes — round, square, rectangular, or specialty shapes such as animals or castles. Baking sheets, also known as cookie sheets, are flat sheets of metal or flat pans made for baking items such as cookies and biscuits. Cookie sheets may be completely flat or have very shallow sides.
Bread pans, or loaf pans, are rectangular and have taller sides than baking dishes. A bread pan is used to make one loaf of bread, and should create a crust that is pleasantly crisp. Bread pans can also be used to make meat loaf, and small loaf pans are often used for dessert or sweet breads.
Muffin pans, or muffin tins are used to make six or twelve muffins or cupcakes at a time. Muffin tins have round spaces for batter, and can come in regular sizes or mini muffin sizes. Silicone muffin cups can be used to bake individual muffins or cupcakes.
Many other types of bakeware exist. Some of the more common ones include springform pans, made to bake cheescakes or tortes; bundt pans, for making bundt cakes; and pie plates. More specialized forms of bakeware include flan pans, doughnut pans, muffin top pans, tart pans, shortbread pans, popover pans, and brioche pans.
Written by Bronwyn Harris