Introduction to Booster Seats
Parents utilize booster seats for children who are out of infancy, but aren't quite big enough to sit in adult sized chairs or car seats. Booster seat can refer to either seats that elevate a toddler or child to sit higher at a table, or a car safety seat — also called a belt positioning booster seat that raises the child to a height where a car's seat belt can function properly.
Booster Seats
A traditional booster seat typically consists of a molded plastic seat with low sides that fits on an adult sized chair. It may flip over, giving it two sides: one with a higher seat, and the other with a lower seat. Some booster seats have straps to ensure that it straps safely onto the chair and will not slide off. Additionally, some seats will have straps to secure the child into the booster seat. Fancier models may include a folding seat component for ease of transport, and/or a tray that attaches onto the booster seat so that a child does not have to use the adult table. Some booster seats now are designed like mini high chairs with trays and attachable toys, and simply strap into the adult chair, saving space in your dining room.
Booster seats are available in most infant and childcare sections, and range in price from $20 to $35 US Dollars (USD). Simple restaurant-style booster seats may be available from a restaurant supply store, and are inexpensive, durable and easy to clean.
Belt Positioning Booster Seats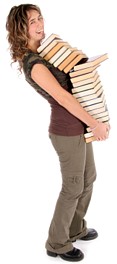 Booster seats that are made for the car are designed with safety in mind. Their function is to raise a child, ranging from 35 to 100 pounds (16 to 45 kg), to a position where the car's lap and shoulder belt functions properly, hitting at the correct place on the shoulder, chest and hips.
The most basic type of belt positioning booster seat consists of a simple plastic, backless seat with arms. The lap portion of the belt runs across the child's hips, held in place by the seat's arms. Some belt positioning booster seats may also have a backrest, which may or may not also have a five point safety harness to use before the child transitions to using the car's lap and shoulder belt, which typically occurs around 35 to 40 pounds (18 kg). Belt positioning booster seats with backrests and headrests will be constructed using materials designed to help protect the child in the event of a car crash by absorbing a portion of the impact.
Belt positioning booster seats are available in a range of colors and designs with extra features such as cup holders, upgraded padding and material, and storage compartments. Cost ranges from $15 to around $300 USD.
Written by O. Wallace
Related Home Institute Articles