Introduction to Fireplaces
Fireplaces are becoming more common in every area of the home: living rooms, bedrooms, kitchens, bathrooms, and patios. Because fireplaces invoke a sense of warmth and comfort, many people want to build them into their homes or add them to existing homes. Although a modern fireplace does not usually serve the practical purposes of cooking and being the primary source of heat in the home, it can provide beauty and ambiance to a home.
Modern fireplaces come in many styles. Masonry fireplaces are traditional, and generally wood-burning; prefabricated or insert fireplaces can burn gas or wood; and fire pits are essentially outdoor fire places which come in different styles. Electric fireplaces are also available; providing heat from electricity and mimicking the look of flames flickering.
A fireplace is often the focal point of a room, whether it is lit or not. More fireplaces are now being installed in the center of the house, as it is much more efficient in providing heat to the house when the heat can radiate in all directions. American Colonial homes usually had a chimney in the center of the house, with more than one fireplace feeding into the chimney.
Fireplace accessories are needed for safety and efficiency of a fireplace. Fireplace grates are common accessories for a fireplace. These are metal grills which are raised slightly up off the floor of the fireplace, allowing airflow under the fire. Andirons are cast iron supports for logs that also allow airflow, helping the fire to burn better. Andirons are often decorative, lending personality to the fireplace and the home.
Fireplace fenders are short screens, or barricades, which stop embers and coals from escaping the fireplace. They are often made of polished brass. Fireplace screens serve the same purpose, but are much taller than fenders. A fireplace screen can be self-supporting or retractable, like curtains.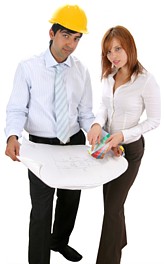 Many modern fireplaces have glass doors, made of a specialized ceramic safety glass that is able to withstand very high temperatures. Direct-vent gas fireplaces must have glass doors which remain shut, since the combustion air for a gas fire is drawn through an exterior intake vent.
Fireplace pokers and tongs are also common fireplace accessories, and are used to shift burning logs in the fireplace. A fireplace broom and shovel are used for periodically cleaning out the cool, accumulated ash from the fireplace. The poker, tongs, and shovel — and sometimes a broom — often come in sets.
Fireplaces are no longer found only in colder areas, but are now common even in homes which are in very mild climates. Outdoor fireplaces and fire pits are now popular in both cold and moderate parts of the world as well.
Written by Bronwyn Harris