Introduction to Saws
Saws are tools which are used most commonly for cutting wood, but can also be used to cut many other materials. Saws can be powered by hand, batteries, electricity, and less commonly, by steam and water power. There are numerous different types of saws, but some of the most commonly used include hand saws, circular saws, jig saws, band saws, and table saws.
Hand Saws
Even with the popularity and ease of power tools, sometimes a hand saw is the easiest and most convenient tool around. Hand saws should have comfortable handles and have 8-10 teeth per inch (2.5 cm). Hand saws are often used for cutting in tight spaces.
Circular Saws
Circular saws can be used to cut metal, plaster, concrete, and wood, depending on which blade is being used. The baseplate should be adjustable, letting the user set the blade depth desired. Adjustable baseplates also perform bevel cuts well as pivoting from side to side. Circular saw blades cut wood and other material in an upward direction. That can cause splintering on the top face of the project, so measurements and cutting should be done from the back, with the good side facing down.
Smaller circular saw blades can be used in saws that are smaller and lighter. However, this convenience must be weighed against the fact that smaller saws are often less powerful and don't cut thick material well. Circular saw blades measuring 7.25 inches (18.4 cm) and 6.5 inches (16.5) are the most popular for home repair use.
Jig Saws
Jig saws are portable and especially good for cutting curves. Variable speed jig saws allow for the speed to be adjusted depending on which blade style is used. Coarse tooth blades generally need a faster blade speed than fine tooth blades. Jig saw blades are available for cutting various types of material, including wood, metal, vinyl, and leather, as well as making different shapes and styles of cuts.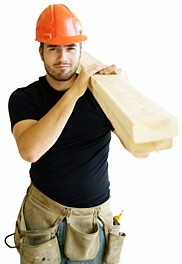 A good jig saw should be able to cut softwood that is 2 inches (5.1 cm) thick and hardwood that is 0.75 inches (1.9 cm) thick. A heavy steel baseplate helps reduce vibration from the jib saw blade's up and down movement. Jig saws with a pivoting baseplate allow for bevel cuts to be made as well.
Band Saws
A band saw can take the form of a small machine on top of a bench or a taller one that sits directly on the floor. Band saws contain a serrated metal band which has two pulleys to hold it in place and move it in a circular motion. This band, or blade, cuts the material being fed into it. Band saws do well in cutting rounded or curved shapes. Different blades, or bands, are available for each type of material to be cut, including a diamond blade to cut glass.
Table Saws
Table saws are a bigger investment, both in space and money. A table saw makes miter cuts, rip cuts, cross cuts, and bevel cuts, as well as producing various kinds of joints for different woodworking projects. Portable table saws cost less and take up less space than regular table saws, and still perform most of the functions of a full size table saw. Eye and ear protection should be worn when working with a table saw, and care should be taken to keep hands far away from the saw's blade.
Written by Bronwyn Harris
Related Home Institute Articles