Organizing an Entryway
Entryways come equipped with a variety of built-in features and the possibility for additions by the owner. It is possible to characterize four types of entryway: front door, back door, entryway with porch or mudroom, and basement entries. But it is probably more useful to speak of an entryway in terms of the functions it performs. How the entryway is organized will depend on which and how many of these functions it needs to perform.
Welcoming Guests, Visitors, and Residents
Often a function of a front entryway is to provide an introduction to the dwelling. The use of paint or wallpaper, lighting fixtures, furniture, and the decorative elements chosen can be coordinated with each other and/or with the style and tone of the rest of the home. Plants can also add to the area's mood.
But don't overlook the importance of welcome to the owners themselves. Many people view their home as their sanctuary or haven, a place apart from the workaday world. The entryway can convey the comfort and security — or whatever mood one wants to convey — that go along with "being home."
Transitioning from Outside to Inside (and vice versa)
As a transition area between the outdoors and the indoors, it is often useful to have a small rug or welcome mat at the entryway to protect the rest of the house from the residue of inclement weather. A boot scraper just outside the door can also help. Whether for checking one's appearance before going out into the world, or resettling one's hair and clothes after taking off outerwear, a mirror is also useful. An accurate clock, which may be purely functional or also serve as a decorative element, is also helpful.
Having a lavatory and sink, which may be referred to as the "powder room," near the entryway is particularly useful for children, who don't have to trail through a large portion of the house to reach the facilities. Gardeners, athletes, and others who want to clean up on their way into the house will also benefit.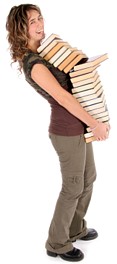 Storage
If the front entry is primarily used by guests, then only temporary storage for outerwear will be required, but if it is used by the residents of the home, more storage and more types of storage may be required. In general, outerwear storage can be provided by an armoire, a hall tree or coat rack, pegs, or a closet. Many furniture companies make locker-type storage units with open cubbies equipped with hooks and openings for drawers or baskets below. These are good options for a built-in appearance to entryway storage. Lower storage shelves or racks to accommodate young children will make it easier for them to keep their possessions neat, and organizing items by owner will also help each person keep track of belongings.
Depending on the climate, a drying rack may be an important item to have near the entryway. A folding rack, whether freestanding or on the wall, will save space. Locating wet and/or snowy outerwear near a source of heat while it is drying will speed up the process. Boots, winter coats, hats, and other bulky items may be stored year-round in an entryway closet or armoire if there is enough room, or can be stored elsewhere when they are not in season.
An umbrella stand can hold not only umbrellas, but also canes. If footwear will be removed and replaced near the entry, a place to sit can be very welcome. If slippers are worn in the house, storing them near the entryway is convenient.
Also important is storage for the items that people carry in and out each day and wish to leave near the door. This will vary by person, but may include:
• keys
• backpacks, homework, and schoolbooks
• briefcases and attaché cases
• wallets and other pocket paraphernalia
• purses
• letters to be mailed
• athletic equipment
• pet leash and outdoor toys
These can be arranged with a combination of hooks, shelves, pegs, and racks, depending on the exact items to be stored.
Written by Mary Elizabeth
Related Home Institute Articles