Introduction to Outdoor Lighting
There are a variety of outdoor lighting fixtures and systems available, not to mention luminaria and citronella candles. But when most home improvement and do-it-yourself proponents speak of outdoor lighting, they're referring to more permanent solutions than candles, so we'll use the term here as they do.
A few general words of caution: Always use UL listed, outdoor-rated lights outside. Always turn off the power before doing a lighting project. Homeowners can undertake low-voltage, i.e., 12v, projects themselves, but outdoor lighting solutions that are hardwired to the home's 120v system must follow housing code, and must be installed by professionals. Professionals should also be engaged if low-voltage wires need to cross driveways or pathways.
Here are descriptions of the main types of outdoor lighting:
Half Brick Light - A recessed light, made to be installed on a wall surface and direct light towards the ground, this type of light is created to make walkways and steps safer.
Holiday lights – There are a variety of types of string lights used for holiday lighting: icicles, twinkle lights, and standard Christmas lights, as well as novelty lights, such as chili peppers. It is particularly important to follow directions when considering whether to attach multiple strings to each other or plug them into separate outlets.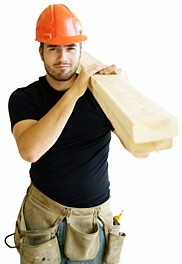 Lampposts or Lantern Posts These posts provide for lighting at a higher level off the ground than path lights and landscape lights.
Landscape Lighting - Landscape lighting consists of a series of low-voltage lights connected to a buried wire which is connected to a transformer/timer that lowers the house voltage going to the fixtures from 120v to 12v. The transformer must be plugged into a Ground Fault Circuit Interrupter outlet (GCFI). Low voltage systems may be installed by homeowners. Landscape lighting usually comes in systems, typically with six to eight lights and 100 feet of cable, and directions. Sometimes landscape lighting is combined in sets with floodlights.
• Floodlights - Floodlights are another type of low-voltage outdoor lighting. Individual spotlights can be used to highlight special features in your yard. Halogen floodlights with a dimmer option are also available.

• Spotlights - These are available as full power (120v) lights and, as a result, are connected to the hardwired electrical system of the house and require professional installation.

• Tiered Lights or Pagoda Lights - These lights are often set in a black or green casing, to keep the focus on the plants. They may feature either plastic or metal fixtures. Note that the term pagoda light can also refer to the tiered style available in other kinds of lights, such as lanterns.
Lanterns - Wall-mounted, mounted on a post, hanging, or freestanding on a table, lanterns can lend a fixed or portable elegance to outdoor lighting. The panels are generally glass or plastic.
Path Lights - Path lights mark the edges of walkways. They are usually decorative, but provide a small amount of light to illuminate the walkway.
Security lights – Lighting at night can increase safety, and this is the goal of motion sensing security lights. Generally, the homeowner can control the sensitivity of the sensor and the length of time the lights are on. These are set on the individual lighting fixture. There is a lighting sensor that keeps the lights off during the day. There are also all-weather lights that can handle cold, heat, and precipitation.
Consider installing security lights by every house entrance, as well as at the front corners of the garage. This will provide safety for you as you stand outside to open doors at night, as well as warn you about the approach of guests as well as intruders on your property. Some systems have a remote motion control detector, so the lights can be turned on as someone approaches from a distance away. Some have an override which allows the light to function as a floodlight.
Solar Lighting - These lights use solar panels, converting sunlight to energy and storing it in batteries. Using this energy, they turn on at dusk, and can stay lit for a maximum of 15 hours. The solar panels may be in each individual light, or a set of lights may use a remote solar panel to charge the entire set. Solar outdoor lighting is available as tier lights and lanterns, as well as decorative path lights.
Step or Deck Lights - Used on the surface of a deck or on stairs or steps, these lights are useful for ensuring people keep their footing on stairs or steps to a porch or deck, or on the surface, itself. Because they install on any flat surface, they can also be affixed to posts, walls, or benches. They are low-profile and low-voltage, typically coming in kits with a set of eight lights and 50 feet of cable or sold individually and tied into existing low-voltage systems.
Written by Mary Elizabeth
Related Home Institute Articles