Parquet Flooring
Parquet flooring is an inexpensive type of wood flooring that is relatively easy to install. Parquet floors include any floor with a repeating geometric pattern. This flooring can be installed in two ways: by arranging parquet tiles on the floor or by nailing down strips of wood.
Parquet tiles are held together loosely when they are purchased, either bonded gently to a cloth, paper, or plastic mesh backing. Alternatively, parquet tiles can be temporarily stitched together. The tiles can be glued on to the floor or nailed down, one tile at a time.
One type of parquet tile has flat edges on all sides, making installation simple. The other type of parquet tile has tongue-and-groove joints which fit together as the tile is laid. Although this tongue-and-groove type of parquet flooring is more difficult to install, it is likely to last longer and be more attractive in general.
Another type of parquet flooring is comprised of parquet tiles with a foam cushion on the back of each tile. This foam layer has a peel-off adhesive backing. Parquet flooring with foam cushioning provides sound insulation as well as thermal insulation and is very easy to install, due to its adhesive backing.
Thin parquet flooring is better for any area that may have problems with moisture, since it will expand less than thicker wood flooring will. Parquet flooring is commonly found in oak but it is also possible to find this flooring in rosewood, walnut, teak, and other woods, although it may have to be specially ordered. Care must be taken to arrange the tiles correctly before adhering them to the floor.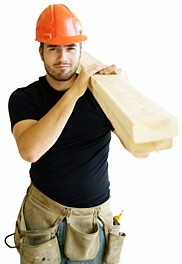 Parquet flooring can be used for any room from bathrooms to large meeting rooms or even ballrooms. Parquetry can be very simple or can be used to create elaborate patterns in the floor. In addition to being decorative, parquet floors are long-lasting, as moisture will not be trapped in the floor, causing the floor joists to rot.
Like any type of wood flooring, parquet floors come in a range of prices and quality. Cheap parquet tiles are usually made of particleboard with a thin coating of veneer, a very thin strip of high quality wood on top of the particleboard. Laminate flooring is even cheaper, as it does not have include any wood at all.
Higher quality parquetry can be resurfaced when it is worn, since the wood is solid. These floors can be sanded down and refinished several times before they need to be replaced. For larger parquet floors, or floors with elaborate designs, a professional should be hired to complete installation.
Written by Bronwyn Harris