Preparing for a Move
Preparing for a move can be intimidating, but is much less difficult when you give yourself plenty of time to prepare. In preparing for a move, you will need plenty of boxes, trash bags, cleaning supplies, and a favorite charity.
The first thing to do when preparing for a move is to get rid of anything that you do not need or want. Everyone has books that they don't want, clothes that they don't wear, or furniture that they have been thinking about getting rid of. Purging your home of these items will make moving much easier, since you will reduce the amount of things that you physically have to move.
When deciding what to give away or sell, it helps to give yourself a lot of time. Experts recommend going through one room at a time, and giving yourself at least a week in each room. Go into each room with two sets of boxes and a trash bag. First, go through the room and put any trash into the trash bag. This will clear out the room as well as giving you a feeling of accomplishment.
Next, place the two sets of boxes on opposite sides of the room — one set for charity and one for moving. Go through the room and put each item that you will not be using before the move into one of the two boxes. Anything that you don't want or need can be donated to your favorite charity. Anything that you will not be using before the move can be packed. This way, you are packing as you give things away and will not have a rush right before you move. Many charities will come to your house to pick up donated items so that you don't have to make an extra trip.
As you prepare to make a move to a new home, you will accumulate many boxes. If you have access to your new home, bring the boxes over in trips. Many people find that moving this way feels less draining, as they can bring over some boxes and set up their new house a little at a time. If you do not have access to your new home before a move, try to put all the boxes together somewhere near the door, for easier access when you actually move.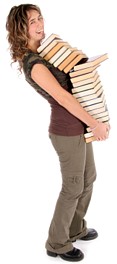 Electricity, gas, water, and a home phone are all things that need to be taken care of before a move. At least two weeks before you move — preferably earlier — call the providers of all of your utilities and make arrangements both to close the accounts at your old home and begin the service at your new home. As soon as you have access to your new home, check all electrical outlets and switches to make sure they work. In addition, make sure that you file a change of address card with the Post Office at least two weeks before your move.
Access to your new home before a move can help enormously if there are any repairs that need to be made. Cleaning a carpet, painting walls, or patching holes are all much easier to do when a room is empty, rather than full of furniture. Hanging curtains, repapering drawers, putting a fresh coat of paint in a room, or redoing floors should be done before you move in, if possible, to make your new home as welcoming and ready as possible.
Finally, don't forget to go through your old home and check for anything that might be left behind. Make sure that no lights are left on, that any appliances being left behind are unplugged, and that all windows are closed. Check garages, yards, closets, drawers, and cupboards for any items that may have been forgotten. Having each family member inspect one or two rooms is an easy way to ensure that no valuable possessions are left behind.
Written by Bronwyn Harris