Sauna Buying Guide
Saunas, readily available in spas and health clubs, provide relaxation and health benefits. A private sauna can offer an even better experience, and can be tailored to your desires, size, and location. Although most saunas use electric heaters to heat a bed of rocks, an infrared heating system can be used for those who want a less intense heating experience.
When buying a sauna, there are many criteria to take into consideration. The financial investment can be large, so you will want to be happy with what you buy. While prefabricated and precut custom saunas are usually possible for homeowners and amateur carpenters to install, custom saunas should be installed by contractors.
Prefabricated saunas are now available for people who do not want to spend the time, effort, or money on custom made saunas. A prefabricated sauna is a kit which is assembled to become a freestanding unit. The walls and ceiling in a prefabricated sauna are finished panels, but need to be insulated and have a vapor barrier installed before they can be used. Also included in most sauna kits is duckboard flooring, all interior and exterior trim, a prehung door, and all equipment such as benches and sauna heater.
A different type of sauna which is commonly purchased is a precut custom sauna. This type of sauna is not a freestanding unit but a kit which contains all of the necessary materials for a sauna, but one which is designed to fit a certain space. These saunas are attached directly to the framed and insulated walls of the room in which they are installed.
When deciding between prefabricated saunas and precut custom saunas, it is important to take into account the advantages and disadvantages of both. Precut custom saunas do require some carpentry skills and cannot be relocated if you move. However, the finished product looks like a custom sauna and fits perfectly into the space provided. Prefabricated saunas are easier to assemble and can be packed up and moved if necessary, but cannot be customized at all.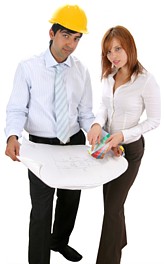 Custom saunas are built on site and are designed especially for the space where they are installed. These should generally be installed by a professional, as they require extensive carpentry work. There are specific types of wood that should be used for custom saunas, and a contractor should know exactly what is needed and how to build it.
Outdoor saunas are not common in many areas, especially in the United States, but can still be enjoyable for those who wish to build them. Before building or installing an outdoor sauna, check the building codes in your area to make sure it is allowed.
Written by Bronwyn Harris