Types of Brooms
A broom, like a brush, is a collection of stiff fibers or bristles fastened into a handle so that they are roughly parallel to each other. Often, but not always, a broom has a long handle (whisk brooms, for example, are an exception). There is some crossover in terminology – identical-looking items may be called a brush in one locale and a broom in another. But it seems that all brooms are used to sweep things – into dustpans or piles or off of surfaces, whereas brushes may have other functions. In addition, note that several items called brooms do not meet this definition.
The Oddball Brooms
• Snowbrooms—Made to sweep, push, or drag snow off of vehicles, snowbrooms usually have telescoping handles, but not all have brushes: some are made of a synthetic material that effectively scrapes as well as brushes snow off, while being gentle on the car's finish.
• Electric Brooms—Looking like an upright vacuum cleaner on a diet, an electric broom cleans up dirt on a variety of surfaces. Some convert to a handheld vacuum. They are cordless and rechargeable.
• Power Broom—Coupled with a power shovel, this outdoor tool clears leaves and debris, while the shovel clears snow. It is a relative newcomer to the broom family.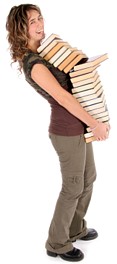 Indoor Brooms
• Angled broom—designed to fit in most corners and nooks, the angled broom, with its synthetic bristles, is frequently chosen for the bulk of indoor work not covered by a vacuum cleaner.
• Corn broom—a simple corn broom cut straight across the bottom can handle rough surfaces, but is used by many all over the house.
• Whisk broom—made by wrapping the end of the bristles or adding a small handle, a whisk broom is usually a small, somewhat triangular corn broom with two rows of stitching across it, made to whisk dirt off of upholstery, carpets, and floors. Very small models made for transporting (in a car for example), may have a case that doubles as a dustpan.
• Push broom—if you have large areas to sweep indoors, you may want an indoor push broom, geared for the particular surface in that area (for more about push brooms, see below).
Outdoor Brooms
• Push Brooms—Most indoor brooms are operated by sweeping across or towards oneself, and are made accordingly, but outdoor brooms are often called push broom because when working across rough surfaces or with large amounts of dirt or debris, a pushing motion is more successful in collecting it.
Push brooms are categorized by the type of surface they are useful for. Variables include the distance between bristles, splitting of the bristle ends, the bristle material, and angling. Brooms may specify whether they are for a rough or smooth surface. You can find some multi-surface brooms, which may be labeled as multi-surface or indoor/outdoor.
• Specialty Brooms—Specialty outdoor brooms include:
• Concrete finishing brooms
• Vehicle brooms
• Garage and patio brooms
• Contractor brooms
• Barn Brooms
• Combo brooms with squeegee or scraper
• Street brooms
• Deck brooms
Written by Mary Elizabeth