Introduction to Bathroom Sink Faucets
Bathroom sink faucets, available in a variety of metallic finishes, porcelain/ceramic, and frosted glass, range from the functional to the beautiful. Chrome, the most popular finish today, became the standard in the 1930s. It replaced nickel, which proved not to be as durable. New finishes have provided better protection for metals such as nickel and brass. Today, the metallic finishes include brushed and polished chrome, as well as brass, bronze, stainless steel, nickel (both brushed and polished), pewter, gold, and combinations such as chrome and brass, or porcelain/ceramic and metal combinations. Some sets include the drain as well as controls and faucet.
One of the key distinctions between different sets of bathroom sink faucets is whether the mix of hot and cold water is controlled by one or two adjustments. The height of the faucet above the basin is another variable, with some bathroom sink faucets aiming for a waterfall effect, and while most faucets do not move, there are some swivel models. Most dual controls are in the form of handles (and, occasionally, levers), while single controls may be a dial, pump, lever handle, or touch control. If you want a drain stop, check to see if it is there: not all bathroom sink faucets have a drain stop, as many new sinks, particularly those made for vessel-style sinks, may not have a drain stop attached.
Three Part Sink Mounts—which consist of three separate parts, two handles and a faucet, are available in two arrangements:
Widespread has 6–16" (15.24-40.64 cm) between outer holes
Minispread has 4" (10.16 cm) between outer holes
Metal cross handles or lever handles and matching pop-up drains are often available as well.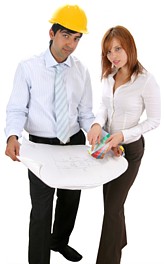 Two Part Sink Mounts—two separate parts, each handle having its own faucet, are called basin taps. Available with cross or lever handles, basin taps may have a matching drain and chain stay with chain and stopper, which may be included or sold separately. 5-spoke handles may be available. Most have the handles on the top, but side handles are also available.
One Part Sink Mounts – one part may be part of three different designs:
Single Post, though usually having a single lever or pump style control, may have two cross or lever handles.
Centerset has one lever handle attached to the faucet, which is set on an escutcheon that may or may not be shouldered or have two handles set on either side of a central faucet, likewise set on an escutcheon. In either case, there is 4" (10.16 cm) between outer holes.
Bridge Faucet is a one piece faucet set requiring two holes: it is formed of two handles, each requiring a hole, with the faucet connected between them by a "bridge" construction. Some bridge faucet sets have a separate drain piece that is installed in a hole directly below the faucet, midway between the handles.
Wall Mount—depending on whether they have one or two handles, wall mounts may have three parts (two handles and a faucet), or two parts (one handle and a faucet). The two-handle sets are characteristically cross or lever handles. One-handle sets feature lever or pump handles. Wall mount bridge faucets are also available, with the same arrangements and two-hole requirement as the sink mount.
Bathroom sink faucets can be chosen to match other faucets in the room, such as tub or tub/shower faucets, as well as being styled to match the entire room. In the case of pained porcelain sinks, faucets painted to match may be an option.
Written by Mary Elizabeth
Related Home Institute Articles